While We Wait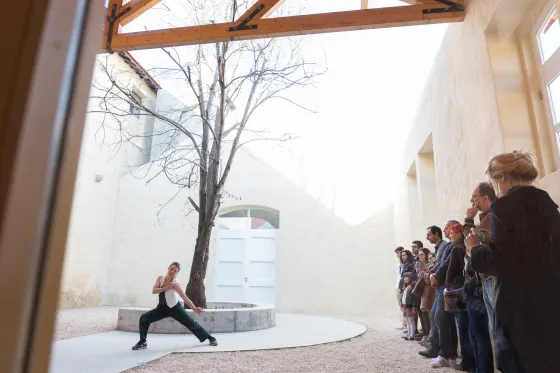 While We Wait is an ongoing construction of dance phrases and interventions, inspired by the everyday process of 'waiting'. Here waiting is not a passive passing of time, but an active choice to engage in an open space. It is an invitation to observe what ordinarily is left unseen, and a refusal to automatically walk in line. To wait is then not a loss of time, but a possibility to re-choreograph it in unforeseen ways.
Choreography and dance

Elisabeth Borgermans

Music

Antonín Dvořák, String Quartet No. 14, Scherzo (Second movement)

Production

Companhia Instável

Coaching

Ana Figueira and Mafalda Mendonça
A dance performance for the project Percursos pela Arquitectura, devised by Ana Figueira and produced by Companhia Instável and Casa da Arquitectura. Companhia Instável is subsidized by Ministério da Cultura and Direção Geral das Artes, and in permanent residence in Teatro Campo Alegre in Porto.