Electric Life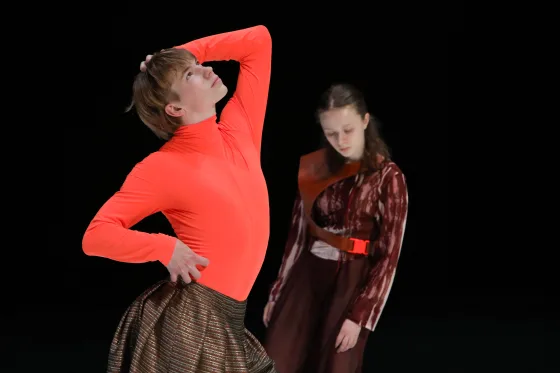 Choreographers Elisabeth Borgermans and Thomas Vantuycom take Stravinsky's masterpiece Petrouchka as a source of inspiration for a new dance creation with nine young dancers between the ages of 16 and 25.
They depart from a new and profound reading of the music, leaving behind the original staging from 1911. Stravinsky's penchant for contrast, rhythm and speed is typical of the modern man at the beginning of the last century, when life became electrified in every way.
Read an interview with Simon Baetens or listen to an interview with radio Klara on Electric Life.
Choreography

Elisabeth Borgermans, Thomas Vantuycom

Dance

Nolan Decreton, Lauryn De Ruyck, Kiko Labarque-Persyn, Celien Mertens, Louis Staquet, Annabel Van Acker, Tess Van der Sanden, Maïté van Genugten, Lennert Vanhove

Music

Igor Stravinsky, Alain Franco, Raphaël Hénard

Music dramaturgy

Alain Franco

Costumes

Alexandra Sebbag

Light

Kurt Lefevre

Production

fABULEUS

Coproduction

Perpodium, Brussels Philharmonic, Concertgebouw Brugge, STUK Leuven

With the support of

the city of Leuven, the Flemish government, the Tax Shelter of the Belgian federal government